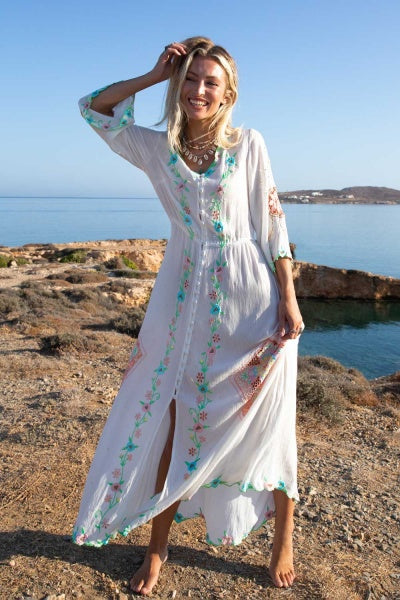 Paros Button Up Dress (Ivory)
€225.00 EUR
Romance and elegance meet in our beautiful Paros Button Up, designed to be your effortless summer throw on for those days when you want it to be quick and
easy without compromising on style. Crafted in the most beautiful crepe fabrication, this sophisticated dress has dreamy floral embroidery design throughout and elasticated waist to fit well and flatter any figure.
Wear it closed as a dress or open as a cool summer throw-on over a bikini or swimsuit while you walk the magnificent coastlines of Miami and Saint Tropez or dress it up with a
slim heel for a night's soiree with friends.
Our model is wearing size S/M. She is 1.70 cm (66.9") tall, Bust 84cm (33"), Hips 90cm (35.4") and Waist 64cm (25.1")
Our studio model is wearing size S/M. She is 165cm (5'4') tall, Bust 82cm (32.3"),Hips 92cm (36.2") and Waist 60cm (23.6")
Bust - S/M: 86cm (33.8") | M/L: 94cm (37")
Waist - S/M: 64cm (25.1") | M/L: 72cm (28.3")
Total Length - S/M: 135cm (53") | M/L: 136cm (53.5")
Sleeve Length - S/M: 45cm (17.7") | M/L: 46cm (18.1")